Trendy, unconventional design styles are showing up in homes and apartments these days. In fact, upscale furniture that includes items like wrought iron, repurposed lumber and artistic uses of curves are appearing in bedrooms, living rooms, and dining rooms. And the Barnloft Dining Table Set: Farmhouse Meets Factory from Weaver Furniture Sales is a case in point.
Barnloft Dining Table Set: Farmhouse Meets Factory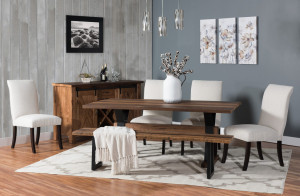 Today's Gen Xers and Millennials — and Boomers to a lesser degree — are increasingly expressing their preferences for industrial themes in interior designs. And you can see this trend in the designs of trendy offices, restaurants — and homes.
This is why the newly released Barnloft Dining Table Set is so timely. Because the set strikes the perfect balance between the factory and farmhouse feel. The Barnloft Trestle Dining Table and the Barnloft Dining Bench feature a reclaimed Barnhouse tabletop and bench seat respectively. Also, both table and bench utilize a black metal base.
Options to Meet Your Needs and Desires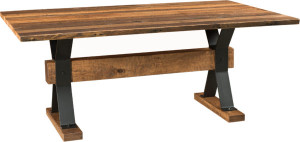 Weaver Furniture offers a number of options so you can enjoy the Barnloft Trestle Dining Table and Barnloft Dining Bench just the way they like them. For starters, as an alternative, you can choose a traditional 1-inch hardwood top with a 2-inch built-up edge for both dining table and bench. Also, you may prefer to accompany the dining table with traditional chairs. No worries. Weaver has hundreds of Amish and Mennonite Dining Chairs from which to choose. These chairs include all-wood models, padded chairs, swivel chairs plus chairs with arms.
The Barnloft Trestle Dining Table comes 42 inches wide. And Weaver offers the table and bench in lengths of 66, 72, 78 and 96 inches. So you can choose the length that best fits your desires and space requirements. Also, in addition to serving as a companion piece to the dining table, the Barnloft Dining Bench makes a great stand-alone piece – such as in a hallway or entryway.
Amish Handcrafted for Strength and Durability
The best cabinetmakers in the Midwest — Amish men – skillfully handcraft each Barnloft Trestle Dining Table and Barnloft Dining Bench. Also, the Amish builders use quality regional hardwoods. As a result, the furniture you acquire will be incredibly sturdy and durable. In fact, with proper care, it easily becomes a family heirloom.
You can order the Barnloft Dining Table Set as shown or unfinished. Also, Weaver Furniture can be custom built to your specifications. For example, you can specify elements like the type of wood, plus the finish.
Visit Weaver Furniture Sales Online or in Person
You can explore the Barnloft Dining Table Set at Weaver Furniture Sales' online store. Or, you can visit Weaver Furniture Sales in person at their 'brick and mortar' store in Shipshewana, Indiana.