Chances are you sit in your bedroom almost as much as you lay in it. Because you sit as you read, watch TV, catch up on social media – or talk to your significant other. So adding Bedroom Bench Seating in your bedroom might be a great idea. Welcome to the Bedroom Bench: Seating, Storage and Style.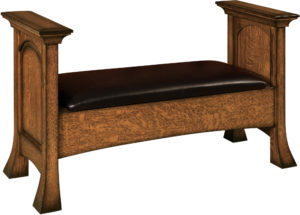 Bedroom Bench Seating Serves Many Functions
Once you add a bedroom bench to your bedroom, you'll wonder how you managed without it for so long. For starters, it makes a great seat. So you'll finally have the perfect spot to put your shoes on. Plus, you'll enjoy a comfortable seat that's not the edge of your bed or a chair stolen from someplace else.
Also, a bedroom bench seating can serve as a handy resting spot for throw pillows and blankets. It's a convenient place to lay out tomorrow's clothes. You can choose a bedroom bench from among a variety of styles and designs. So the bedroom bench you choose can become a fabulous design accessory.
Placement for Practicality and Aesthetics
Depending on the size and layout of your bedroom, you have a great deal of flexibility concerning the placement of a bedroom bench. The foot of your bed is a natural spot. Or, you may choose to position it beneath a window. Another option could be using the bedroom bench as a makeup bench in front of your dresser.
A Variety of Options from Weaver
Weaver Furniture Sales in Shipshewana, Indiana, offers bedroom benches in a wide variety of styles and designs. You may choose a plain finished hardwood bench or an upholstered bench.  Some of the benches are designed with the ends raised. Plus, you can choose bedroom bench seating with or without storage.
Amish Crafted for Beauty, Strength and Durability
The best Amish cabinetmakers in the Midwest painstakingly handcraft each bedroom bench for Weaver Furniture Sales. And the Amish men use solid hardwood and other top-quality materials. Skills are handed down from their ancestors, along with modern technologies. So the bench you choose will be incredibly sturdy and durable. In fact, with proper care, it should last for generations to come.
Bedroom Bench: Seating, Storage and Style from Weaver
You can explore Amish made bedroom benches at Weaver Furniture Sales' online furniture catalog. Or, check out Weaver Furniture in person by visiting their Weavers Shipshewana furniture store in Northern Indiana to see which bedroom bench seating is right for you.