Jul19
Comments Off on Durango Loveseat: a One-of-a-Kind Furnishing
Durango Loveseat: a One-Of-A-Kind Furnishing
Are you a lover of quality furniture? Are you searching for the perfect home seating decor? Look no further than the Durango Loveseat: a One-of-a-Kind Furnishing. The Durango Loveseat features a Mission design. It also includes plush seating and web rider coil springs.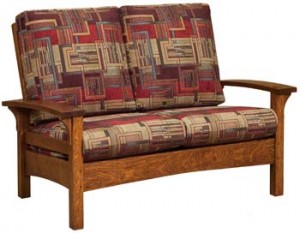 Don't get lost in the details! The Durango is a practical choice for anyone seeking comfortable seating and a great style.
As pictured here, the plush fabric features a pattern with rich, earthy colors. Overall, the style is very "Southwestern." This style is not just for Westerners though. It will fit easily into any type of home decor.
Durango Furniture History
The Durango Loveseat takes its name from the Mexican state of Durango. Durango's rich culture spread North into the United States. Today, Colorado is home to a city called "Durango." Like many Western cities, Durango, Colorado features art and design inspired by Mexican and Spanish cultures. As a result, the clean and simple design of the Durango style captures the beauty of Mexican culture and design.
Weaver's boasts several Durango products. Each product is built using the same classic techniques and hand-picked hardwoods. Therefore customers are given the choice of red oak, brown maple, cherry, or quarter sawn white oak, chosen from the Midwest. Each wood type has a unique color, strength and grain pattern. This creates a unique piece. Furniture lovers who love custom options will love the choices for this Durango piece.
Like each of our furnishings here at Weaver Furniture Sales, the Durango Loveseat is available with a wide choice of custom options. This includes wood species, stain, fabric and size choices. Above all visit our furniture store in Northern Indiana's Amish country and view our entire collection of loveseats and living room seating.  Experience first-hand the beauty of our well-crafted and honestly sold hardwood Amish furniture.