What makes a Mom and Pop Amish Furniture Store unique?
I asked myself this question when considering purchasing a TV stand. What makes a Mom and Pop Amish Furniture Store different from a furniture chain-retailer? Is a family-owned Amish furniture store (ran out of a garage in a small town Indiana) really that different from Ashley's enormous furniture showroom? After deliberating and coming to no satisfactory conclusion.  I decided the only way to arrive at any real answer was to take it to the streets.
I began by visiting three major furniture retail chains in the course of a day. My mission was simple: browse the selection of TV stands and take note of quality, price, custom options, and sales help. By the end of the day, one thing was clear. In terms of quality, price, customization and sales help, each of the three retailers were virtually identical.
There was a modest selection of moderately to low priced TV stands.  Each stand came without custom options (unless I wanted to change the hardware myself as one salesmen suggested). But while the sales help were all genuinely friendly and I spotted a few nice pieces, I found myself wanting more.
Fast forward a few months and I am in the heart of Northern Indiana's Amish country looking for a Mom and Pop Amish Furniture Store.  Soon I find myself at Weaver Furniture Sales browsing a packed and inviting showroom (formerly a farmhouse) finding a larger selection of TV stands that, while priced higher on average than the chain-retailers, boast a huge selection of custom options. In some cases, TV stands could be custom designed from scratch with the help of a salesperson. The environment was warm and friendly and the overall quality of the pieces were outstanding.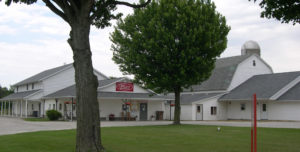 What makes mom and pop Amish furniture stores unique? I pondered the question again and with satisfaction recalled my experiences with the four furniture retailers. One thing is for sure: fine furniture can't be found just anywhere, and count yourself lucky when you know where to find it.