The dining room hutch communicates the entertainment acumen of a homeowner more eloquently than any other item of furniture. Because the hutch traditionally showcases items like fine china, crystal, and nice glassware. Plus glass bowls and the like. So if you're looking for a hutch that does justice to your dinnerware, you need to take a closer look at the Prestigious, Practical Cape Cod Mission Hutch.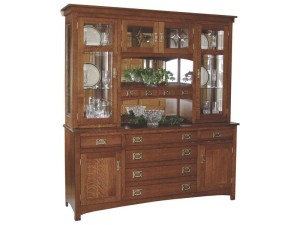 Prestigious, Practical Cape Cod Mission Hutch
When it comes to custom-built, solid hardwood hutches, the Cape Cod Mission Hutch is at the top of the class. Because its designers and Amish builders included all the 'bells and whistles.' Take the cabinets up above. They feature five adjustable glass shelves with a plate groove on top. So you can stand your plates upright for an eye-catching display. Also, the mirrored back and the leaded glass "Star" design in the top doors add to the hutch's prestigious appeal. What's more, touch lights keep everything nicely illuminated. And you can choose an open or closed deck.
The hutch's fine cabinetry is vividly displayed in the intricate woodwork throughout. Especially down below. All eight drawers open full extension. So you'll enjoy full access to everything inside, even items at the back. Also, dovetail joints in the drawers enhance strength and durability. In addition, the four bevel glass and two wood doors are elegantly flush-mounted. And you'll find a fixed shelf behind each wooden door.
Amish-Crafted for Beauty, Strength, and Durability
The top Amish artisans in the Midwest painstakingly handcraft each practical Cape Cod Mission Hutch. And the Amish builders choose quality hardwoods like cherry, maple, and oak. So it's little wonder the hutch is so beautiful, sturdy and long-lasting. In fact, with proper care, the hutch should continue serving your family for generations to come.
Visit Online or in Person
You can explore the incredibly practical Cape Cod Mission Hutch at Weaver Furniture Sales' online store. Or, check out Weaver Furniture in person by visiting their 'brick and mortar' store in Shipshewana, Indiana. And see their lineup of hutches and other Amish-built furniture.