Sep02
Comments Off on Savings Galore Plus Prizes in Weaver's Anniversary Sale
Weaver Furniture Sales is celebrating its anniversary with Savings Galore Plus Prizes in Weaver's Anniversary Sale. And you get to enjoy big savings and prizes. The Weaver Anniversary Sale runs September 3-24, 2018, at Weaver Furniture Sales' 20,000 square foot store in Shipshewana, Indiana.
Savings Galore Plus Prizes in Weaver's Anniversary Sale
Weaver is offering up to a whopping 65% off clearance items. Plus, you can get 20% off 3-piece living room sets and 35% off any in-stock Outdoor Poly Furniture.  You can even place a Poly Furniture order and get 20% off.  What's more, were selling all in-stock items at 15% off! So there's never been a better time than now to purchase Amish-handcrafted, solid hardwood furniture.  Come and save during our Anniversary Sale while supplies last!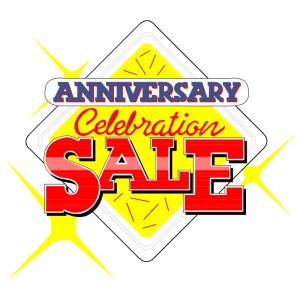 Win In-Store Prizes Worth up to $500
When you get to our Shipshewana store during the sale, you can enter to win gift cards worth up to $500, plus other prizes as well. But you must register in person and be 18 years of age or older. Entrants need not be present to win.
Exciting New Designs, Free Food, and More
During the Anniversary Sale, you'll get the see exciting new designs, representing the latest trends in hardwood furniture styles. Also, you're invited to enjoy free food and participate in a benefit bake sale on Friday and Saturday, September 21 and 22.
Visit Weaver Furniture Sales Today
Weaver Furniture Sales is open daily from 9 a.m. to 5 p.m., 9 a.m. to 4 p.m. on Saturday and 9 a.m. until 2 p.m. on Labor Day.  The store is closed every Sunday.
The 20,000 square foot Weaver Furniture Sales is located 1/4 mile south and 1/4 mile east of the junction of State Road 5 and US 20 in Shipshewana, Indiana. So the store is easy to find. Also, you'll see thousands of items to choose from.  If you see something you like, you are welcome to take your furniture purchase with you.  We also offer various delivery options including full service, white glove delivery.
For more information on Savings Galore Plus Prizes in Weaver's Anniversary Sale, visit Weaver Furniture Sales website. Or call 260-768-7730.