Amish-Made Plasma TV Stands
Featuring versatile storage space and durable construction, Amish-made Plasma TV Stands have become a popular furnishing in the last decade. Spurred on by the continuing evolution of home entertainment and bigger, clearer televisions.  Plasma TV Stands have grown into a large branch of home furnishings.  Furthermore, encompassing a variety of styles and designs, from classic to modern, simple to ornate.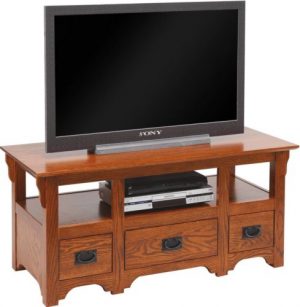 Plasma TV Stands boast natural hardwood craftsmanship, traditional woodworking methods, and dynamic storage space. Many Plasma TV Stands also include a wealth of custom options including hardware choice, wood species choice, glass choice, door and drawer options, stain and paint choices and style choices (to name a few).
Visit a local Amish-furniture market and view more Plasma TV Stands. Witness their detailed construction and elegant design and see why there is nothing like Amish furniture.