The curio cabinet is one of the first items of furniture that grab peoples' attention when they visit someone's house. Because the items stored in a curio cabinet tell a lot about the occupants of the home – a glimpse into the family's story. In Curio Cabinets: Displaying Unusual Finds, we'll look at the history of curio cabinets. We'll also explore some of the best-built curio cabinets to be found anywhere.
Displaying Unusual Finds of Yesteryear
The glass curio cabinets we know today got their name and shape from the 'Cabinets of Curiosity,' which date back to the ending of the Middle Ages and the beginning of the Renaissance. Back then, Europeans would display unusual – and sometimes ghoulish – objects collected during their travels to places like Asia, Africa, and the Americas.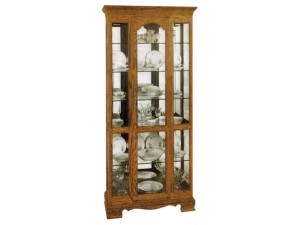 Of course, medieval Europe had no television or Internet. And museums were few and far between. So you can imagine the stir curio cabinets created as guests 'oohed and aahed' over the fascinating and precious treasures they saw behind the glass of vintage curio cabinets.
Showing Off Your Finest Keepsakes Today
Over time, curio cabinets found their way into the homes of 'regular' people. And gone are the miscellaneous bones and taxidermy animals of an era past. Instead, homeowners today prefer to display their collections of more personal objects. Like Hummel figures and ornate replicas of butterflies and birds. Or decorative plates, china and crystal.
Weaver Furniture: Curio Cabinets Without Equal
If you're looking for a beautiful, superbly built curio cabinet, you need to check out the Curio Cabinets collection from Weaver Furniture Sales in Shipshewana, Indiana. Every curio cabinet in Weaver's collection reflects detailed craftsmanship and timeless beauty. Because skilled Amish cabinetmakers hand-make each cabinet. And they use solid hardwood and other top-quality materials. Plus skills handed down from their ancestors, along with modern technologies. So this dedication to the craft of woodworking results in curio cabinets that are spacious and elegant. Also, they are very durable. In fact, with proper care, the cabinet you choose should last for generations, even becoming a cherished heirloom.
Visit Weaver Furniture Sales Online or in Person
You can explore an impressive collection of solid wood, Amish-made Curio Cabinets online at Weaver Furniture. Or, check out Weaver Furniture in person by visiting their 'brick and mortar' store in Shipshewana, Indiana.