Custom Made Furniture Options
Anyone who has spent hours searching fruitlessly among countless furniture retailers to find the perfect home furnishing can relate to the frustration of finding a piece that's almost right, but not quite. For this reason, Weaver Furniture Sales is proud to offer a variety of Custom Made Furniture Options.  As a result this includes wood species, hardware, stain, paints, dyes, glass and many more.  We do this to ensure that everyone can find the perfect piece for their home.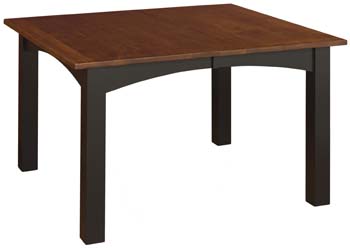 In a previous post, we discussed the rarity of finding custom furniture retailers.  We even visited three furniture retailers to compare custom options. In this post, we will check out a custom dining room table, the Cordoba Table (pictured to the right) and its custom options. This beautifully-crafted table boasts wood species and stain choices, table top shape selection, a solid or split top, leaf storage choices and table size selections.
Truly, custom is the way to go if you're looking for the right piece. Come visit our Shipshewana Amish Furniture Store and check out more of our custom Amish furniture~