Weaver Furniture Sales Customizable TV Stands
Since the inception of the home television set, Customizable TV Stands has steadily grown into an impressive branch of home furniture. Now, with the advent of VHS and DVD players, home theater systems and gaming consoles, the demand for high-quality entertainment furniture has increased.
We strive to stay up-to-date with the demands of our customers. Therefore Weaver Furniture Sales offers a huge selection of customizable plasma TV stands. Each of our TV stands is unique in style and design, though they have some essential qualities.  These qualities include:
Solid Hardwood Construction: Beautiful finishing and dovetailed construction are the norms.
Storage Space: Multiple doors and drawers typically feature adjustable shelves and CD/DVD storage racks.
Sturdy Hardware: Pewter pulls, wood knobs…you name it, we've got it!
CD/DVD Console Space: You'll find plenty of room for your entertainment and gaming consoles.  Cord holes are available to provide easy setup!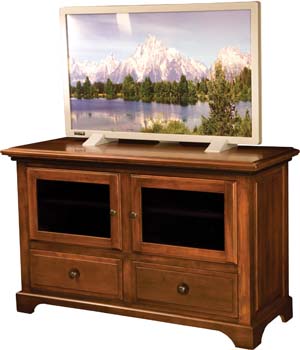 Visit us in person or online and find the plasma TV stand that's right for you!