Entertainment Furnishings
Empire TV console
Elegant wood furniture often calls to mind sleek dining suites. As well as impressive bedroom collections and classic living room sets. Yet many entertainment furnishings have successfully blended modern technology and elegant designs for a one-of-a-kind style. As a result, the Empire TV Console, pictured here, boasts timeless elegance.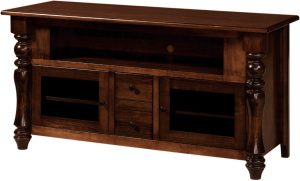 Above all this piece is perfect for the home-owner looking for a tasteful, traditionally-beautiful furnishing.  Therefore one that can support and complement a variety of modern media consoles. Dynamic storage space and sturdy craftsmanship enable the Empire TV Cabinet to house a variety of media units.  Therefore DVD/DVR/CD players and gaming consoles can fit comfortably. Be sure to check out the custom options. This includes wood species, stain/paint/dye and hardware choices.
Finally, visit our Shipshewana Furniture store to see more of our entertainment centers!