Feb05
Comments Off on Investing in the Future: Furniture for the Growing Family
Hand-Crafted Children's Furniture
For the growing family, there is a whirlwind of change as babies grow in an instant.  Transforming from babies into children with ideas, attitude, and dreams. Keeping up with this fast-paced development is an epic challenge. If you're looking for furniture to accompany your child's quick growth, endure their rough-and-tumble lifestyle and provide organized space for the "stuff" of their life.  As a result, check out our wide variety of Hand-Crafted Children's Furniture.
Searching for a crib or bed for your child? Consider the Mission Convertible Crib (pictured below).  Above all, it's a solid wood convertible bed that easily switches from a crib to a day bed to a double bed!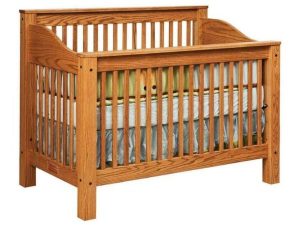 Or check out the Twin Storage Bed, a sturdily-constructed youth bed that boasts several full-extension drawers below the bed! It's truly an ingenious design!
Even more, our wooden table sets provide a safe place to play with friends and learn valuable skills that will aid your child's development.
For more info on the children's furniture of Weaver Furniture Sales, visit our Shipshewana Furniture store in Northern Indiana!