The Perfect Accent to Your Home Office
Homestead 66 Inch Credenza
Finding a proper desk isn't easy. With that being said, style and strength. As well as storage and longevity must be considered when choosing a proper desk. To make the choice simpler, it is helpful to first-of-all consider Amish furniture as a top choice. Not only does Amish furniture feature expert craftsmanship and beautiful, sleek construction.  It also features incredible durability ensuring many, many years of use without breakage.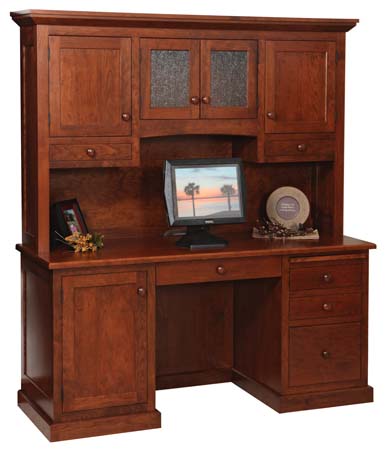 For those of you looking for a desk, a hutch offering additional storage space should be considered. A well-designed hutch can expand the available storage space exponentially.  Therefore offering room for files, letters, supplies and even computer equipment.
Above all consider the Homestead 66 Inch Credenza, pictured here. This credenza features a classic desk design and a beautiful hutch.  Furthermore, the desk includes a door for the computer tower storage, a large file cabinet, and a keyboard drawer.  The hutch comes complete with four doors and two storage drawers.  Accents include a slide-out writing surface and a variety of custom options.
To see more credenzas and other Shipshewana furniture pieces like this, visit Weaver Furniture Sales!