Kitchen Cabinet Furnishings
Jelly cupboards, pie safes, wine cabinets, leaf storage cabinets, veggie bins, and bread boxes.  These are just a selection of Kitchen Cabinet Furnishings. Dining cabinets also serve a wide variety of functions in the kitchen.  Knowing which cabinet to choose among the vast selection available can be difficult.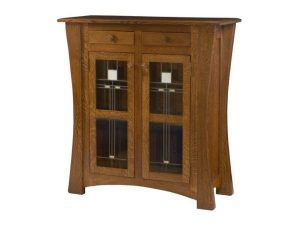 While certain dining cabinets are designed with a specific purpose in mind, think of the wine rack for example.  The Arts and Crafts Two Door Cabinet with Glass Panels (pictured right) features dynamic storage space suitable for a wide variety of uses. With its elegant stained glass doors, curved profile and genuine, distinctive wood grain, this piece will accent your kitchen beautifully.
To see more kitchen cabinets, please visit our Shipshewana Amish Furniture store.  Here you can view our wide variety of Amish furniture~