Lincoln Occasional Table Collection
When considering the name "Lincoln" what comes to mind?  Grace under pressure, great dignity, classic elegance, strength, and integrity are just a few.   In American history, few names have conjured such lofty ideals and feelings as the name of "Lincoln". Certainly, no one and no thing can match the celebrated President Lincoln.  Yet we can offer a tribute to his ideals and unforgettable qualities. Weaver Furniture Sales presents the Lincoln Occasional Table Set, a one-of-a-kind, expertly crafted living room set.  This set will not only accent any home, but will bring together home design into cohesive beauty.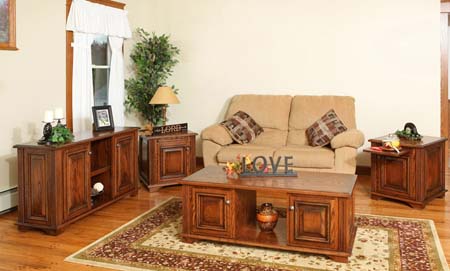 Featuring unique paneled fronts and sides, sturdy wood craftsmanship and solid knob hardware (as well as a variety of custom options, including drawer slide, hardware, wood species, cam lock and stain/dye/paint options), the Lincoln Occasional Table Set is a timeless furnishing set.
To see more occasional table sets, visit our Shipshewana Furniture store!