The Most Common Wood Types:  Maple, Oak, & Cherry Wood
Above all wood furniture boasts beauty and durability that sets it apart from non-wood furnishings. Many artisans, such as Amish craftsmen, often utilize indigenous hardwoods to ensure strength and rich quality. Therefore three of the most common wood types are Maple, Oak, & Cherry Wood. Maple boasts a fine texture and strength. Oak features durability and is able to bend.  Cherry is a close-grained wood.  Therefore it ages well.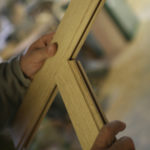 New advancements in the development of sturdy plastics have enabled many to purchase plastic furniture at low prices.  Yet for many homeowners, wood furniture is a worthy investment. Therefore the elegance and artistry of handcrafted wood furniture are unparalleled by furniture made of artificial materials.
In the Midwestern United States, countless wood furniture retailers offer handcrafted furnishings. Most noteworthy the Amish offer premier wood furniture.  As a result, they have built a reputation by offering high-quality furnishings with incredible durability and precise detail.