Jan12
Comments Off on Elegance from Another Age: the Mission Jewelry Dressing Table and Chair
Classic Elegance & Style 
Mission Jewelry Dressing Table & Chair
Furniture can hold a dynamic place in our imaginations and memories. Many of us may be able to picture a classic curio that belonged to your grandparents.  Or an old cedar blanket chest that stayed in your parent's old bedroom. In many of our minds, the dressing table is a piece that hearkens back to an older time where classic elegance and style influenced furnishing and fashion.
The Mission Jewelry Dressing Table & Chair, pictured here, features solid Oak wood construction. As well as wood diamond hardware, wood slats in the top of the swivel mirror and a cushioned fabric chair. Furthermore straight legs with floor levelers, a side door for necklace storage and drawers for ring, watch and bracelet storage complete this piece. In addition, a variety of custom options, such as wood species, stain/dye/paint, and hardware selections, make this a custom piece!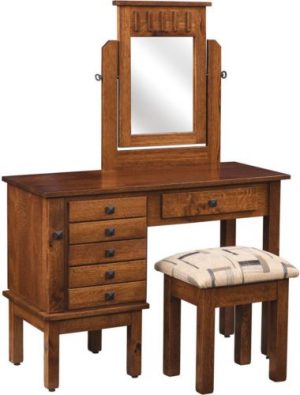 To see more dressing table like this, visit our Shipshewana furniture store and see why Amish-crafted furniture is one-of-a-kind.