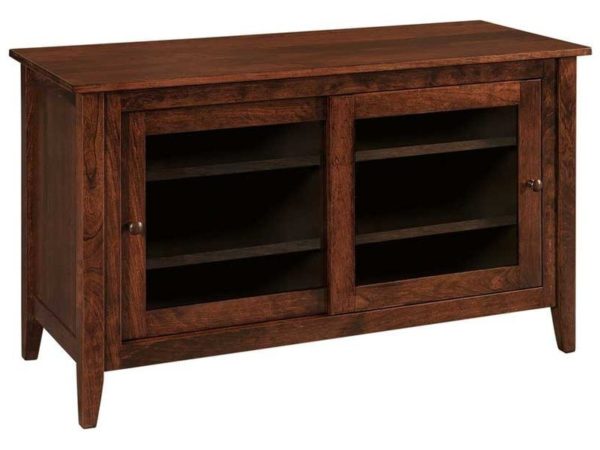 Alamo TV Cabinets

Product number: M1710A-WVS-30538

Features
Solid Hardwood Construction
Two Fully Adjustable Shelves Per Section
Lightly Smoked Glass Sliding Doors
Screwed on Removable Back
Customizable
Available Unfinished
Measurements
Small TV Cabinet: 48 W x 20 D x 29 1/4 H
Medium TV Cabinet: 60 W x 20 D x 29 1/4 H
Large TV Cabinet: 72 W x 20 D x 29 1/4 H
The Alamo TV Cabinets feature a design that is warm and welcoming. It creates a warm backdrop with a clean and simple design that makes them a perfect option for modern media equipment. The handcrafted TV collection offers solid hardwood and structural integrity. The TV cabinets feature two lightly smoked glass doors. This allows for easy remote operation. The TV cabinets also feature two fully adjustable shelves within each section. So, choose between three sizes to ideally suit your space. Finally, the Alamo TV Cabinets can be customized in your choice of stain and hardware selections.
Alamo TV Cabinets Ordering Information
Contact us! The Alamo TV Stand is certain to be the highlight of your entertaining area. Choose your options and request a quote: email, call, or visit us at our Weaver Furniture Sales in Amish Country. The store has a wide selection of quality hand crafted solid wood TV Cabinets. We are happy to answer any questions and help fit your design and storage requirements. Please remember to take a look at our other entertainment center options and related items so you can complete the perfect look in your home.