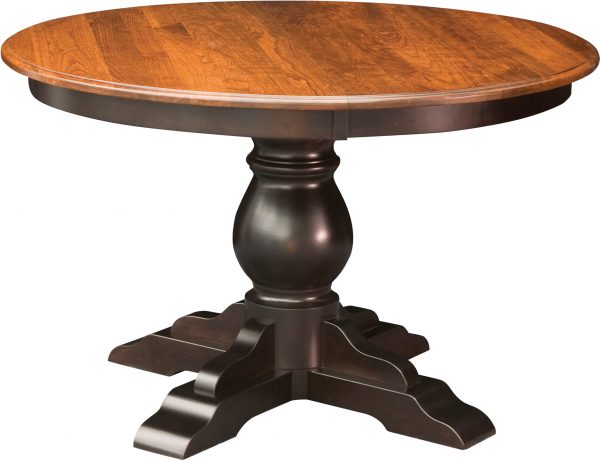 Albany Pedestal Dining Table

Product number: W1712P-WVW-29725

Features
Solid Hardwood Construction
One Inch Thick Round Top
Shown with Standard Ogee Edge
Available with Butterfly Leaf (Single 18" Leaf)
Levelers in Base
Elegant Single Pedestal
Available Unfinished
Customizable
Measurements
48, 54, or 60 Inches Round
Available with up to 2 Leaves
The Albany Pedestal Dining Table reflects a stylish modern twist on a classic design. The two tone style you see here will look great with any home decor.  Its large base is sure to draw attention.  You will love eating around this table with all of your family and friends.  The ability to customize this Amish dining table is what makes it unique to your home.
Questions about the Albany Pedestal Dining Table?
After viewing this website if you would like more information please contact us at Weaver Furniture Sales. We are happy to help you over the phone or would love to meet with you in person at our store in Shipshewana, Indiana.
jQuery(function($){
var animation = $.browser.msie || $.browser.opera ? 'fade' : 'slide';
$('.testimonials-flexslider').flexslider({
animation : animation,
slideshowSpeed: 10000,
animationSpeed: 1000,
touch: false,
controlNav: false,
directionNav: true
});
});