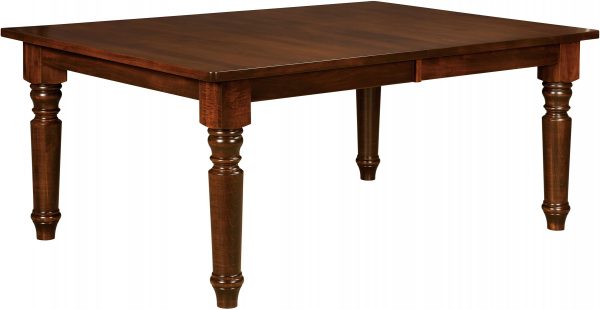 Berkshire Dining Room Table

Product number: W1712P-WVW-29741

The Berkshire Dining Room Table lends a formal design to your space and we can customize it to meet your needs. With six different table sizes and the option to add up to four leaves, this table should fit most spaces. The legs come standard as smooth, but you can select the optional reeded leg, too. Use your own chairs or take a look at our numerous dining room chairs. The Berkshire Chairs are a perfect match, but again it is all about the look you desire. We know this is an investment and we want you to get exactly what you want.
Want to know more about the Berkshire Dining Room Table?
Scroll down to see the various options on this dining room table. If you find yourself with questions or don't see something on this table that you were hoping for. Then, please call or e-mail us at Weaver Furniture Sales. We are happy to assist you.
Features
Solid Hardwood Construction
1 1/4 Inch Thick Smooth Top with Mission Edge
1 Inch Corner Radius
3 1/2 Inch Straight Skirt
Self-Storing Leaves Available
4 1/2 Inch Leg Standard (Shown)
Also Available with Reeded Leg
Table with 2 or More Leaves will have Center Leg
Customizable
Available Unfinished
Measurements
Available Widths: 42 or 48 Inches
Available Lengths: 60, 66, or 72 Inches
Floor to Bottom of Skirt is 25 1/2 Inches
Available with up to 4 Leaves