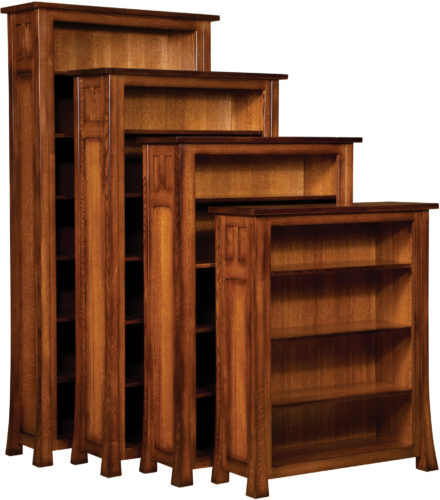 Bridgefort 40 Inch Bookcase

Product number: L1802K-WVN-32903

Graceful construction blends style and strength in the Bridgefort 40 Inch Bookcase. This bookcase stands alone quite well, but it pairs perfectly with a desk. Contact Weaver Furniture Sales so you can customize this Bridgefort 40 Inch Bookcase.
Contact Us about the Bridgefort 40 Inch Bookcase
Make your selections from the extensive list of custom options and request your personal quote. Of course, you are always welcome to visit our store in Shipshewana, Indiana if you'd like to put hands on our exquisite products or simply need inspiration. Finally, please do not hesitate to contact us, if you have any questions at all. We look forward to providing you with your custom Amish furniture!
Measurements
Bridgefort 2 Shelf Bookcase: 14"d x 40"w x 36"h
Bridgefort 3 Shelf Bookcase: 14"d x 40"w x 48"h
Bridgefort 4 Shelf Bookcase: 14"d x 40"w x 60"h
Bridgefort 5 Shelf Bookcase: 14"d x 40"w x 72"h
Bridgefort 5 Shelf Bookcase: 14"d x 40"w x 80"h
Bridgefort 6 Shelf Bookcase: 14"d x 40"w x 84"h