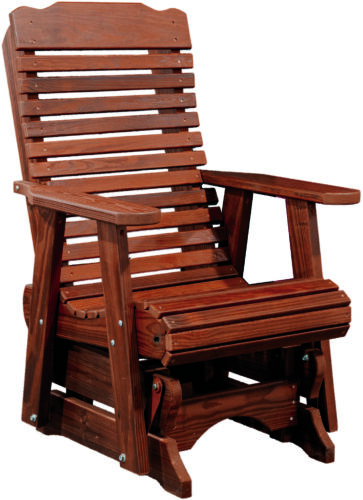 Contoured Glider Chair

Product number: O2007N-WVE-41409

Features
Solid Wood Construction
Fragrant Red Cedar
Naturally Repels Insects
Natural Resistant to Rot
Strong, Long-Lasting Glide Arms
Zinc-Coated Hardware Resists Rust
Skilled craftsmen designed the Contoured Glider Chair with a contoured back. Therefore creating a comfortable glider for your front porch. One that will provide hours of gliding for you and your family for years to come. Constructed from red cedar, this sturdy and fragrant glider is naturally repellent to pests and rot. With custom options available, you can create the perfect glider for your outdoor space.
Ready to Order the Contoured Glider Chair
If you are ready to order click the "Customize This Product" button below. Complete your information, including the custom options you are interested in. As well as any questions you may have. Once submitted one of our Furniture Specialists will contact you within 24 hours to discuss your order.
If you find yourself near Shipshewana, Indiana, stop by for a visit. At Weaver Furniture Sales you can view our in-stock outdoor Amish furniture first hand. As well as speak to our Sales associates one-on-one. We look forward to meeting you.