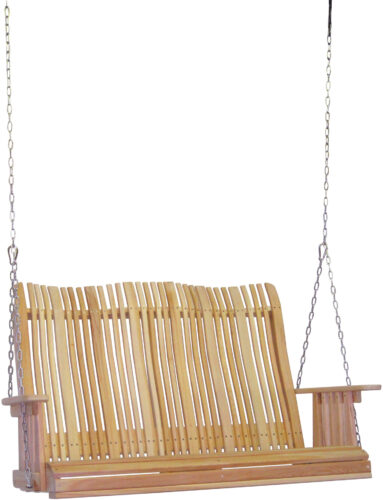 Cypress Highback Swing

Product number: H2006Y-WVS-41060

Features
Solid Cypress Construction
Heavy Duty, Adjustable Swing Chain
Great Lumbar Support
4 or 5 Foot Options
Stainable and Paintable
High Resistance to Rain, Rot, Warping, and Pests
Measurements
4 ft. Swing: 29 D x 56 W x 33 H (main photo)
5 ft. Swing: 29 D x 68 W x 33 H
The Cypress Highback Swing is designed with a slatted high-back and lumbar support. Therefore creating a comfortable swing fit for relaxing for hours while reading your favorite books or catching up with old friends. Constructed from solid cypress, this sturdy swing has a high resistance to rain, rot, warping, and pests. With custom options available you can create the perfect swing for your patio or back porch.
Ready to Order the Cypress Highback Swing
If you are ready to order click the "Customize This Product" button below. Complete your information, including any questions you may have. As well as the custom options you are interested in. Once submitted one of our Furniture Specialists will contact you within 24 hours to discuss your order.
If you find yourself close to Shipshewana, Indiana, stop by for a visit. At Weaver Furniture Sales you can view our in-stock Amish outdoor furniture first hand. As well as speak to our Sales Associates one-on-one. We look forward to meeting you.