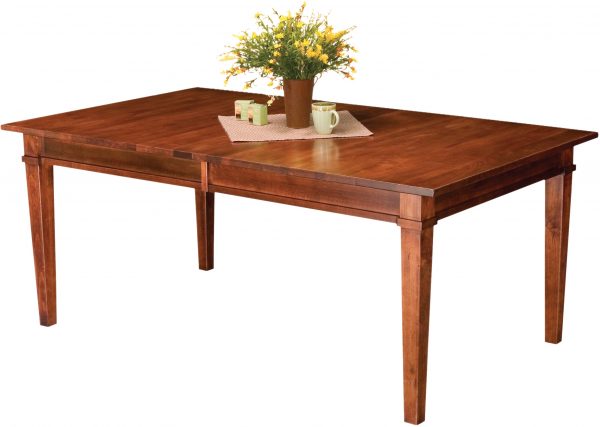 Ethan Dining Room Table

Product number: W1712P-WVW-29765

The Ethan Dining Room Table offers sharp details and a modern design. Subtle elegance makes this table perfectly suited for any home. We also offer this table in a variety of sizes, so you can choose the dimensions that are ideal for your space. Additionally, you can add up to four leaves to expand the dining area for a larger gathering. Finally, finishing touches like the straight skirt and slightly tapered legs with molding make this table a true conversation piece.
Contact Us Regarding the Ethan Dining Room Table
Choose from a variety of options to finish the Ethan Dining Room Table to exactly suit your taste. If you don't see an option that you were hoping for, please let us know. You may call, email, or visit us at our store in Shipshewana, Indiana. Our team is happy to assit you with any aspect of your home furnishing needs.
Features
Solid Hardwood Construction
Two Bolt Leg Attachments
1 Inch Thick Rectangle Top with Mission Edge
4 1/2 Inch Straight Skirt with Molding Details
3 x 3 Inch Tapered Leg with Molding Details
Available with 3 1/2 Inch Skirt for Arm Chairs
Non-Geared Wooden Slides
Leaf Storage Options Available
Available Unfinished
Customizable
Measurements
Available Widths: 42 or 48 Inches
Available Lengths: 60, 66, or 72 Inches
Available with up to 4 Leaves