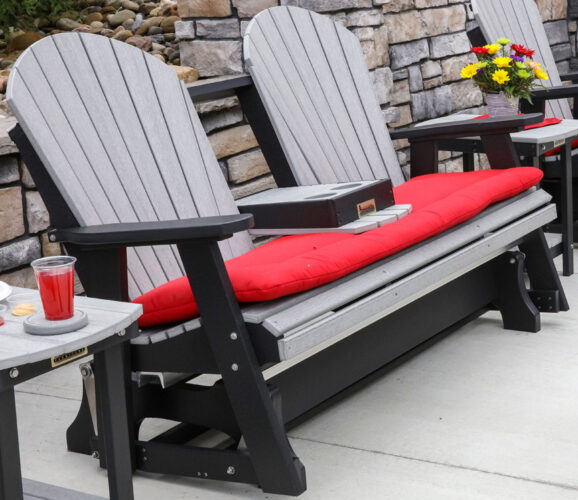 Fold-Down Glider

Product number: O2006D-WVS-41214

Features
Maintenance Free Poly Lumber
Made from Recycled Milk Jugs
UV Stabilized
Resists Fading
Reinforced with Marine Grade Stainless Hardware and Aluminum
Available in a Variety of Colors
Fold Down Table with Cupholders
The Fold-Down Glider is heavy and was built to last. Amish craftsmen made this glider from recycled milk jugs, so you can rest knowing it is an earthfriendly product that will be around for quite some time. Featuring a fold-down table with two cupholders, you and your significant other will enjoy catching up after work while comfortably gliding in your backyard. Above all this glider is available in a variety of colors. So choose your favorite bright or subdued color. One you will still be in love with years down the road.
Ready to Order the Fold-Down Glider
If you are ready to order click the "Customize This Product" button below. Complete your information, including the custom options you are interested in. As well as any questions you may have about the Fold-Down Glider. Once submitted one of our Furniture Specialists will contact you within 24 hoursto discuss your order.
If you find yourself near Shipshewana, Indiana, stop by for a visit. At Weaver Furniture Sales you can view our in-stock outdoor Amish furniture firsthand. Along with our other in-stock Amish furniture. As well as speak to our Sales Associates one-on-one. We loof forward to meeting you. We are ready and waiting to help you make this glider part of your outdoor living space.