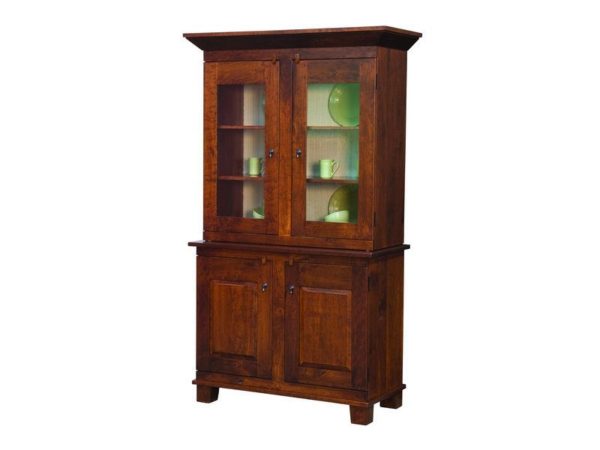 Frazier Hutch

Product number: H1712C-WVR-27684

Features
Solid Hardwood Construction
Four Doors (two antique glass inlay, two wood raised panel)
Soft-Close Hinges
Pegged Doors
Authentic Wooden Catches
Wood Shelves
Beaded Back
LED or Can Lights
Light-Blocking Trim around Doors
Available in Open Deck
Measurements
48 W x 20 D x 81 H (2 doors, shown)
66 W x 20 D x 81 H (3 doors)
88 W x 20 D x 81 H (4 doors)
Pegged doors, authentic wood catches, vintage hardware and hefty feet enable the Frazier Hutch to recapture the Americana style. And with its solid hardwood Amish construction, the hutch epitomizes strength, durability and beauty.
The two raised panel wood doors and the two antique-glass-inlay doors open and close with tiny round pegs instead of traditional hinges. Also, the doors are secured with authentic wood catches. Now comes the transition to 21st Century engineering. The doors come with a soft-close feature. Gently push an open door. And it closes the rest of the way. Also, LED or can lights inside the hutch keep everything illuminated. In addition, our builders installed light-blocking trim. It prevents light from seeping around the doors.
Behind the wooden doors, you'll find lots of storage space. So you'll have lots of room for your dishes, glassware and keepsakes. Also, we offer the hutch in three sizes: 48, 66 and 88 inches wide. So you can select the size that best fits your needs and space requirements.
Skilled Amish cabinetmakers painstakingly handcraft each Frazier Hutch. And they use genuine Midwestern hardwoods like oak, cherry and hickory. The Amish men also draw from skills handed down from their ancestors. No wonder the hutch is so sturdy! In fact, with proper care, the hutch should last for generations to come, even becoming a family heirloom.
How to Order the Frazier Hutch
For a quote, click on the "Customize This Product" link, and tell us your choices for hardware, wood specie/finish and other options. To make your selections easier, click on the "Customize" drop-down button and check out the options for stains and finishes as well as hardware. Then click the "Get Your Customized Quote" button. And if you're relatively close to Shipshewana, Indiana, visit our store to explore our wide assortment of quality, Amish-built, solid hardwood furniture for yourself.