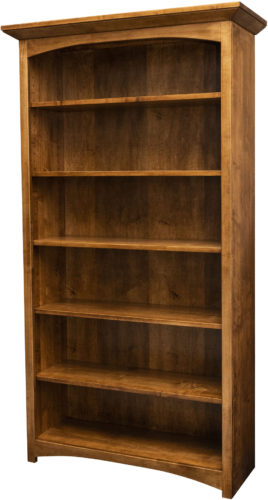 Mission Arched Skirt Bookcase

Product number: I2004N-WVW-40706

The Mission Arched Skirt Bookcase is designed with a classic Mission Style, creating a unique bookcase for your home. With adjustable shelves, this functional bookcase will keep all your books organized.
Ready to Order the Mission Arched Skirt Bookcase
If you are ready to order click the "Customize This Product" button below. Here you can complete your information, along with any questions you may have. Once submitted one of our Furniture Specialist will contact you within 24 hours to discuss your order.
If you find yourself close Shipshewana, IN stop by for a visit.  At Weaver Furniture Sales you can view our in-stock furniture first hand. Furthermore, you can speak to our Sales Associates one-one-one. We look forward to meeting you.
Features
Solid Hardwood Construction
Adjustable Shelving
42 and 48 Inch Widths have Center Divider
Available with Single (18 & 24 W) or Double Doors
Customizable
Available Unfinished
Measurements
Widths Available: 18, 24, 30, 36, 42, or 48 Inches
Heights Available: 36, 48, 60, 72, or 84 Inches
Depths Available: 12 (standard), 15, or 18 Inches
(For Top Sizes Add 2 Inches to Depth and 4 Inches to Width)