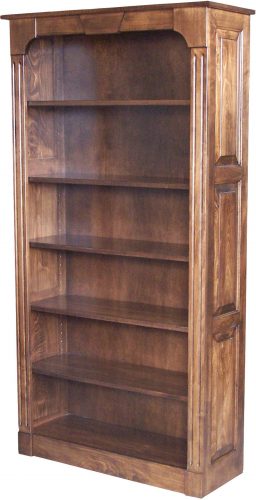 Northport Raised Panel Bookcase
Product number: I1712N-WVW-27915

Features
Solid Wood Construction
Raised Panel Sides
Raised Panel Flush Door(s)
Adjustable Shelves
Available Unfinished
Customizable
Measurements
Widths Available: 18, 24, 30, 36, 42, or 48 Inches
Heights Available: 36, 48, 60, 72, or 84 Inches
Depths Available: 12 (standard), 15, and 18 Inches
(For Top Sizes Add 1 Inch to Depth and 2 Inches to Width)
The Northport Raised Panel Bookcase has a simple yet elegant design. The raised panels definitely provide detail and style to your living space. You see this bookcase here with a slight overhang on the top piece. However, you can certainly order it with flush sides, too. Just be sure to specify that when ordering. This bookcase has beauty enough to be put anywhere in your home or office. It would look good in a hallway, office, bedroom, living room, etc. So, if you get tired of it in one room it is easy to move it to another room. Choose from the 72-inch with five adjustable shelves or the 48-inch with three adjustable shelves.
Northport Raised Panel Bookcase Ordering Information
Please contact us at Weaver Furniture Sales with any questions you may have about this Northport Raised Panel Bookcase. We are here to help you customize it to meet your needs. Also, if you don't see what you are looking for please ask and we will be happy to help you get exactly what you want.