Sep11
Comments Off on Mission Furniture Versus Shaker Style: A Classic Match-Up
Mission Furniture Versus Shaker Style
Simple Amish Furniture
Mission and Shaker represent two classic American furniture styles. Both boast a rich history and a diversity of spin-off styles. They are popular sellers decade after decade. They are also hallmarks of Amish furniture builders and retailers.  Generally, both reflect Simple Amish Furniture. Yet despite their similarities, they possess many distinct qualities.
Mission style furniture features sturdy slats, straight vertical or horizontal features, solid legs or posts, black Mission hardware (either pulls or diamond knobs), and straight angles.
Shaker style furniture features tapered legs, gentle curves, round knob hardware, and sometimes includes thin slats or spindles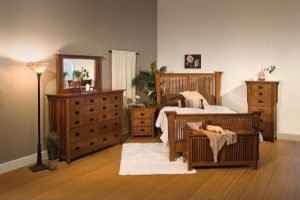 When comparing mission furniture versus shaker style, both seem to fit in the category of plain and simple.  This is similar to the Amish Culture.  Many Amish furniture craftsmen offer customization options.  The classic mission and shaker styles can stray from the original classic styles.  Sometimes the market demands a mission or shaker piece but with additional features that may be considered ornate or more detailed.  Those ideas spin-off and create brand new versions of mission furniture or shaker style pieces.  The designs built by many Amish craftsmen are slightly different from the original mission and shaker styles.  Many are rooted in those classic designs.
The Royal Mission Bedroom Set (pictured above) is constructed out of Quarter Sawn White Oak wood and features a classic Mission design. The Shaker Collection Bedroom Set (pictured below) features paneled sides and inset hardware.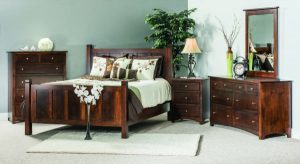 In the mission furniture versus shaker style matchup, which style do YOU prefer?
We'd love to hear your responses. Be sure to check out weaverfurnituresales.com to browse a wide variety of Shaker and Mission style Amish furniture, or come visit us in person.