Buying hardwood furniture represents a large investment. And they're many practical things you can do to protect that investment. Plus make your furniture stand out as pieces of beauty and sophistication for decades — if not generations — to come. So for these reasons, you owe it to yourself to explore Tips on Hardwood Furniture Care 2.
Create the Right Environment for Your Hardwood Furniture
The fact that you're exploring or have already bought hardwood furniture indicates that aesthetically your home is the right environment for solid wood furniture. But once you place hardwood furniture in your home, you need to create the right physical environment for it as well.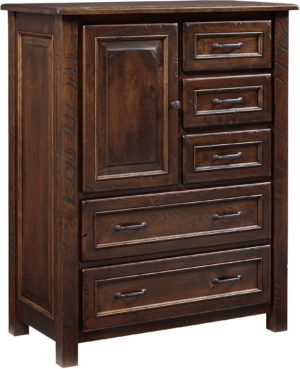 1. Temperature
Like other elements in nature, your furniture expands and contracts as the temperature in the room increases or decreases. Keep these temperature changes to a minimum by maintaining the room temperature in the 65-78 degree range year-round.
2. Humidity
Wood tends to swell in high humidity and shrink when the humidity is low. And these fluctuations in humidity cause wood to warp or even split. That's why experts in the field recommend that you maintain humidity levels in your home at between 35 and 45 percent. If you have a built-in humidifier, you can easily adjust the moisture level. But what if your heating or AC system does not have a built-in humidifier? In this case, you can buy a humidifier or a dehumidifier as well as a humidifier gauge online or at a big box store.
3. Extreme Heat, Sunlight and Chemicals
Experts recommend that you avoid exposing your hardwood furniture to direct sunlight. Because the heat and ultraviolet light from the sun bleach the wood and degrade the finish. Also, keep your furniture away from direct contact with hot or cold air from your vents.
Also, do not place plastic toys or objects on your furniture. Because over time, the color from the plastic object may transfer to the wood or finish.
Move Your Furniture with Caution
This may sound like a no-brainer. But you should use extreme caution when moving hardwood furniture. For starters, solid wood tends to be very heavy. And parts of the furniture, such as table legs, headboards and footboards, can loosen or break if pushed directly. This is especially true on carpeted surfaces. So how can you move furniture easier? You can place sliders below the feet of your furniture. Also, how about inviting family members, friends or neighbors to help?
Weaver: Solid Hardwood Furniture Leader
Weaver Furniture Sales in Shipshewana, Indiana, leads the way in supplying Amish-crafted, custom-made, solid hardwood furniture to customers across the United States. The top Amish artisans in the Midwest painstakingly handcraft each piece of furniture from Weaver. And the Amish builders choose quality hardwoods like cherry, maple and oak. So it's little wonder the pieces are so beautiful, sturdy and long-lasting. In fact, with proper care, the furniture you buy from Weaver should last for generations to come.
Tips on Hardwood Furniture Care 2
Weaver has furniture for every room in your home. And you can explore the incredible collections by visiting Weaver Furniture Sales' online store. Or, check out Weaver Furniture in person by visiting their 'brick and mortar' store in Shipshewana, Indiana. And see their lineup of solid hardwood furniture for yourself. Then, you can put the Tips on Hardwood Furniture Care 2 to good use.
Also, for more useful instructions on taking care of your hardwood furniture, read the first blog in this series, Tips on Hardwood Furniture Care 1.