Amish furniture provides furnishings for every aspect of home-life.
Bedroom, living room, dining room, bathroom, office, porch and patio…there are various "nooks" within the home–spaces with designated purposes and roles. As a result, each of these nooks requires Unique Furnishings to support their purpose.
For example, furnishing the bedroom requires specific furnishings. If you require vast storage space, perhaps a mule chest may be the proper piece. Or if bedside reading is part of your evening routine, check out the Rosemont Three Drawer Nightstand.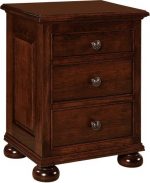 Also, furnishing the living room can be a challenge. From sofas, love-seats, reclining chairs, the seating arrangement must be considered. Furthermore, occasional tables must be selected to match the interior home design. And an entertainment center with ample storage space must hold the decor together.
Amish furniture offers home furnishings for every aspect of home life. From the home office to the bathroom or the children's playroom, you can find a sturdy, hardwood piece for your every need. Check out our Shipshewana Furniture store to view our Amish furniture for every aspect of home life.