Interior design is constantly evolving, with new and older styles returning. As we head into 2023, it's natural to wonder what the latest decorating trends are and whether certain styles, such as mission furniture, are still in style.
Characteristics of Mission Furniture
Mission-style furniture, also known as Arts and Crafts furniture, originated in the late 19th century. It was created in response to the growing popularity of mass-produced, machine-made furniture. The style was characterized by its simple, sturdy design. Craftsmen often made of oak and featuring straight lines, flat panels, and exposed joints. The aesthetic was inspired by the furniture of Spanish missions in California, as well as the Arts and Crafts movement, which emphasized handcraftsmanship and rejected the ornate, highly decorative styles of the Victorian era. Mission-style furniture became popular in the United States and Europe and is still widely sought after today for its timeless, functional design.
Mission vs. Shaker
Mission and Shaker styles are influenced by the Arts and Crafts movement and share some similar design elements, such as an emphasis on simplicity and functionality. However, there are some key differences between the two styles:
Mission style:
Known for its strong, straight lines and solid construction, usually made of oak.
Characterized by exposed joints, flat panels, and a lack of ornamentation.
Often has a heavier, more substantial look and feel.
It is known for its clean, functional design and is often made of cherry or maple.
Characterized by simple, straight lines, tapered legs, and minimal embellishments.
It has a more delicate and refined appearance compared to the Mission style.
In summary, Mission style furniture is more rugged and earthy, while Shaker style is more understated and refined. Both styles are considered timeless and are still popular today for their functional and aesthetic appeal.
What are the key characteristics of Mission Style Furniture?
There are reasons that Mission furniture is still sought after by decorators.
1. Craftsmanship
With its excellent craftsmanship, mission furniture is built to last more than a lifetime. Mission furniture is hand-made by experienced craftsmen who take the time to make sure every aspect of the piece is perfect. As with other heirloom quality furniture, mission-style furniture is built using solid hardwood. Additionally, much of mission furniture is constructed using mortise and tenon joinery techniques which are considered some of the best and strongest techniques.
2. Versatility
Through its simple design, mission furniture can be seamlessly added to any decor style you already have. The mission style is a beloved furniture style because it fits in with so many types of homes. Additionally, this style of furniture is not just for living rooms or dining rooms; instead, artisans create mission furniture for nearly every room in the house. For example, a slatted baby crib is one of the most common mission furniture pieces.
How to Choose the Right Style of Furniture for Your Home
When choosing furniture for your home, consider the following factors to ensure that you pick the right style:
Room purpose: Think about the intended use of each room and choose furniture that suits that purpose. For example, a comfortable couch and armchair may be suitable for a living room, while a sturdy desk and chair are more appropriate for a home office.
Room size and layout: Consider the dimensions of your rooms and choose furniture that fits the space and doesn't overcrowd it. Take into account the layout and flow of the room, and choose pieces that complement it.
Personal style: Reflect on your personal style, taste, and preferences. Choose furniture that speaks to your sense of style and creates a warm and inviting atmosphere in your home.
Color palette: Consider the colors used in your rooms and choose furniture that complements or contrasts with those colors in a pleasing way.
Budget: Set a budget for your furniture purchase and choose pieces that fit within it. Consider the cost-effectiveness of each item and choose quality pieces that will last for years.
Remember that your furniture should be functional, comfortable, and aesthetically pleasing. Take time to choose pieces that meet your needs and reflect your style.
Weaver Furniture Spotlights the Modesto Style of Mission Furniture
Since the birth of Mission-style furniture in the early 20th century, there have been several innovations in furniture designs.  Therefore resulting in a variety of different Mission furniture styles. One such style is the Modesto Style Furniture collection. Featuring typical Mission designs such as exposed tenons, flat sides, flush drawers, mullioned doors, and black Mission hardware.  The Modesto style is firmly rooted in the traditional Mission design. However, curved legs (the Mission style typically features straight angled legs) give the Modesto style its distinct style. The Modesto TV Cabinet exemplifies the fusion of traditional Mission design with subtly curved legs that give a modern accent. Browse Weaver Furniture Sales' large collection of Modesto Style Furniture. As a result, you'll discover pieces for the family room, bedroom, office, and dining room.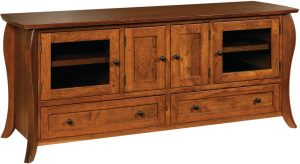 Whether you're looking to update your living room furniture for the new year or you are in need of a new dining room table, browse our selection of mission-style furniture today at Weaver Furniture!