Jun22
Comments Off on Mission Furniture
Handcrafted Furniture
Hamilton Mission Dining Collection
To fully appreciate the art of handcrafted furniture, plan a trip to a local Amish furniture market. Therefore you can see first-hand the intense detailed construction that marks each furniture piece. Among the vast collections of designs and styles of home furnishings, there are few that boast the recognition and rich legacy of Mission furniture.
Therefore Mission furniture has held a place in the American imagination for nearly a century. The Mission style has influenced architects and furniture craftsmen alike since the early-20th century with its clean, simple angles and classic style. As a result, it has come to define the "Amish" style–clean, elegant, sturdy and simple.  An example of Mission style furniture is the Hamilton Mission Dining Collection (pictured below).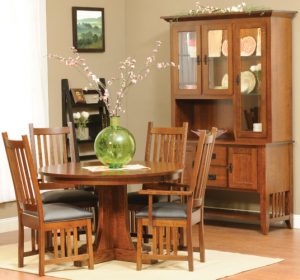 Visit a local Amish furniture market or retailer. As a result, you can see Mission furniture crafted in the traditional way. Exactly as it was first crafted decades ago. Amish craftsmen use many traditional construction methods. Above all the Amish work with detailed precision to ensure that each Mission piece is crafted to the highest standard possible.