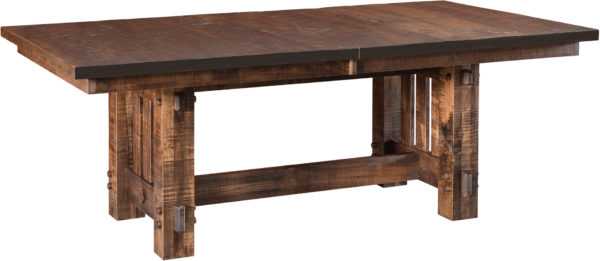 El Paso Trestle Dining Table

Product number: W1911P-WVW-39508

The El Paso Trestle Dining Table offers exquisite craftsmanship with a rustic feel, perfect for a modern farmhouse look. The table features authentic "thru-tenons" in the base, giving it a truly unique appearance. We offer this table in four sizes and with up to three leaves. Therefore, you can accommodate groups large or small. Rough Sawn Wormy Maple wood gives the table an incomparable finish. It is a perfect choice for your home!
Learn More About the El Paso Trestle Dining Table
Review the customization options listed below to get started. If you do not see a finish you're looking for, let us know. Call, email, or visit us at Weaver Furniture Sales to build the table of your dreams. We are standing by and happy to help answer any questions you might have.
Features
Solid Hardwood Construction
1 3/4 Inch Thick Rectangle Top
Mission Edge Standard
Authentic "Thru-Tenon" in Base
Available in Rough Sawn Wormy Maple Only
Rustic Features
Equalizer Slides
Levelers in Base
Available Unfinished
Customizable
Measurements
Available Widths: 42 or 48 Inches
Available Lengths: 68 or 80 Inches
Solid Top or up to Three - 16 Inch Leaves