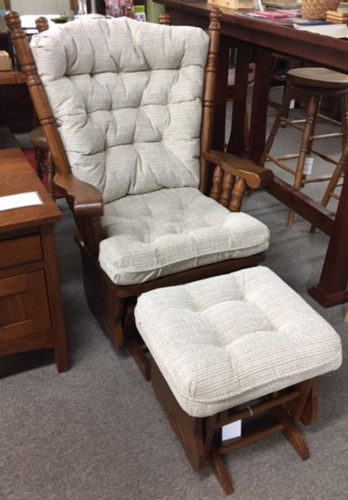 Giselle Glider Ottoman Set Ready for Pick Up
Product number: A2004B-WVC-40755

Features
Reversible Seat Cushion
Long Glide Technology
Distressed Pecan Finish
Ivory Fabric
In Stock and Ready for Pick Up Today!
Measurements
Overall Glider Width: 32 Inches
Overall Glider Height: 44 Inches
Overall Glider Depth: 34 Inches
Seat Width: 19 1/2 Inches
Arm Height: 24 1/2 Inches
Seat Depth: 19 Inches
Seat Height: 19 1/2 Inches
Ottoman Width: 20 Inches
Ottoman Height: 16 Inches
Ottoman Depth: 18 Inches
The Giselle Glider Ottoman Set is Ready for Pick Up! We've discounted this set by more than $100 from a regular price of $898.69 to the low price of $798! We can gently clean this combination set and have it ready for contactless pick up at a moment's notice. So, if you need a place to sit in comfort and enjoy passing the time, don't hesitate to contact us. You can call (877) 357-2106, email or chat with us when it's convenient!
This combination offers a perfect fit for a nursery or family room. The wood features a distressed pecan finish and the ivory upholstery complements the darker wood. The price displayed is your price out the door, including Indiana sales tax. When you've made your order, we will prepare and secure the set in our Shipshewana warehouse where it will await pick up at a private, prescheduled appointment.
The Giselle Glider Ottoman Set is In Stock and Ready for Pick Up!
So, if you feel like making a piece of home-grown, Indiana craftsmanship a part of your home, please reach out today. And while you're browsing, take a look at the rest of our inventory available for pick up today! If you see something you like, let us know and one of our associates can share additional information about our available products.