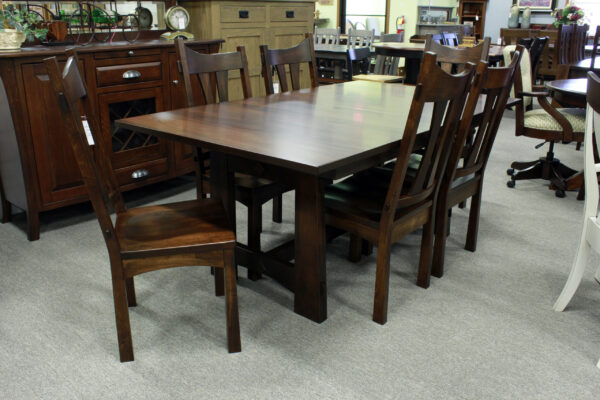 Trenta Dining Set Ready for Pick Up

Product number: D2005W-WVK-40931

Features
Solid Brown Maple Construction
Rich Tobacco Stain
Exposed Mortise and Tenon Joints
Angled Chair Backs
Trestle Table Base
Carved Seat
Available for Pick Up Today!
Measurements
Table: 42 W x 72 L x 30 H
Table Expands with Two Leaves
Side Chairs: 18 1/4 W x 42 3/4 H x 22 D
The stunning Trenta Dining Set is ready for pick up today! The trestle table expands with two leaves and six chairs offer ample seating options. So, you have a set that is perfectly suited for entertaining groups both large and small. Not only does this set offer practical dining space, but it also boasts impressive design and character. The chair backs feature angled tops with either left or right points and exposed tenon joints, so the set is an instant conversation piece as well.
If you'd like to learn more, don't hesitate to contact us! You can reach us by phone at (877) 357-2106 or by email whenever it is convenient. You can also talk to an associate using our online chat function, if you'd prefer. Either way, our associates will happily answer questions about the Trenta Dining Set and help complete your order.
Check out the Trenta Dining Set, it's Ready for Pick Up Today! 
Take your time and browse through all of the furniture currently in stock and ready for pick up! When you place your order, we will immediately secure your items in our warehouse. We will thoroughly clean and prepare your Trenta Dining Set prior to your arrival for pick up. Finally, you'll find us in Shipshewana, the heart of Indiana Amish country. We look forward to seeing you!